Award Winning Site Manager Welcomes MP Visit to Greenan Views
Family housebuilders Mactaggart & Mickel recently welcomed MP Allan Dorans to their Greenan Views development in Ayrshire as he congratulated Senior Site Manager, Stuart Gillespie on his recognition from the UK's leading new home warranty and insurance provider
Ayrshire-based Stuart was praised after he added a further accolade to his illustrious track record when he scooped a runner-up prize in the highly-regarded National House Building Council's Pride in the Job Supreme Awards.
The honour, in connection with his work at Mactaggart & Mickel's Greenan Views development in Doonfoot, follows four UK Supreme wins and five UK Supreme runner-up awards, including in the 2020 awards, as well as 11 NHBC Scottish regional awards for Stuart.
Greenan Views, Doonfoot is in Mr Dorans constituency of Ayr, Carrick and Cumnock. He said: "Stewart is a real credit to Mactaggart & Mickel, demonstrating an exceptional history of outstanding performance throughout his career with the business.
"It's been a pleasure to meet with him and the rest of the team at the development, getting an insight into the construction process and a more in depth understanding of the role Mactaggart & Mickel plays in the community."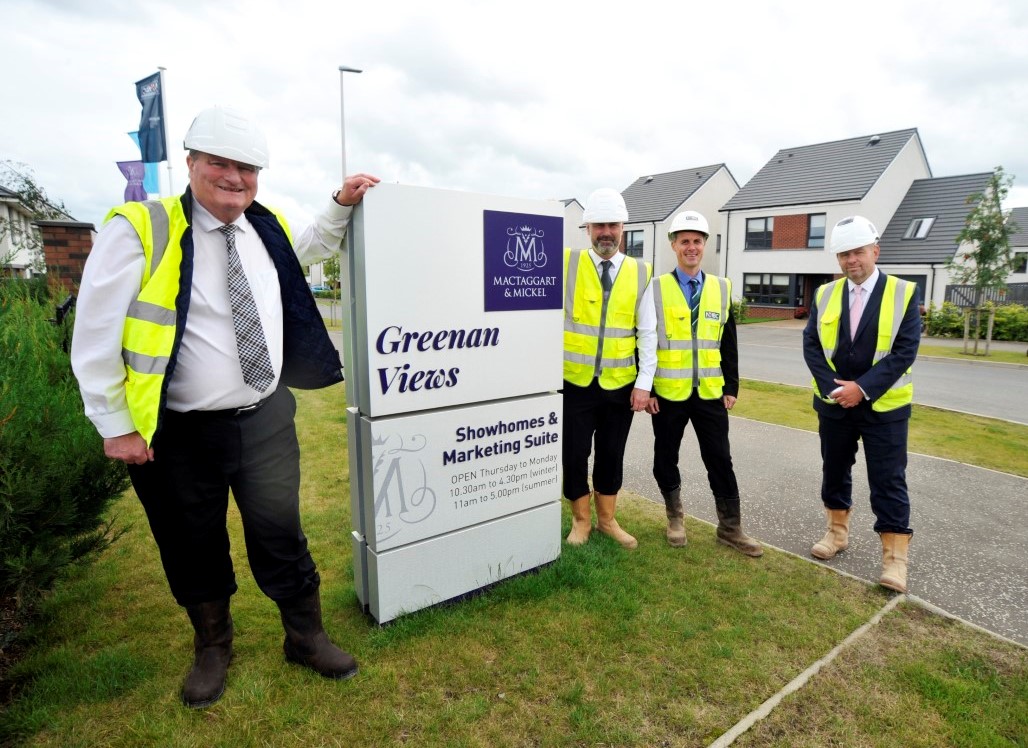 Above left to right- MP Allan Dornas, Senior Site Manger Stuart Gillespie, NHBC Regional Director Raymond Baxter and Group Head of Construction Jamie McLean. 
Stuart, said: "I'm always very proud to welcome people to Greenan Views. The whole team here really has worked together to overcome a really challenging 18 months while ensuring we continue to build homes of the highest quality.
"The accolade really is recognition of a joint effort from everyone at Mactaggart & Mickel and so I was thrilled with the opportunity to speak with Mr Dorans to convey the superb efforts of the entire site.
"We are passionate about the homes we build and achieving exceptional standards."
NHBC, the UK's leading new home warranty and insurance provider, launched the first Pride in the Job competition in 1980 to celebrate the UK's best performing site managers building homes and have become the most highly-regarded competition in the industry.
The awards play a pivotal role in NHBC's drive to give consumers confidence in the quality of new-build homes and in 2020 Stuart was runner-up in the medium builder company category for site managers employed by a company or group that builds between 51 and 1,000 new homes with NHBC warranty cover each year.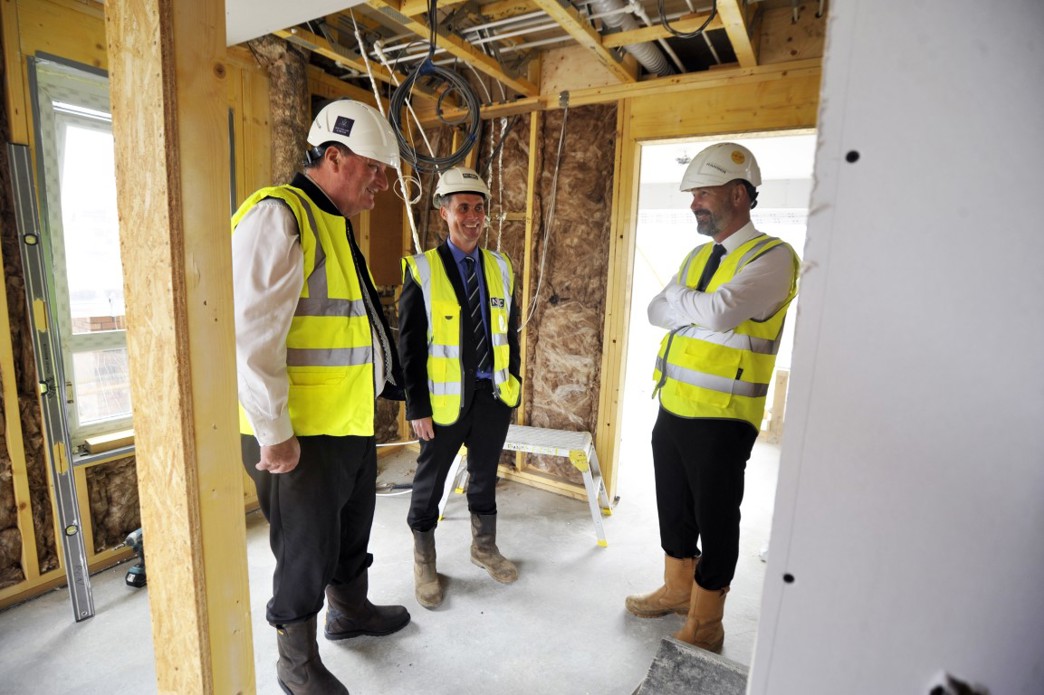 Above left to right- MP Allan Dornas, NHBC Regional Director Raymond Baxter and Senior Site Manger Stuart Gillespie. 
Peter Shepherd, Director, Mactaggart & Mickel, said:
"Stuart's achievements are testament to the high standards he upholds and his inspirational leadership. We're incredibly proud of him and I am sure Mr Dornan could see the passion he has for quality and delivering exceptional work.
Glasgow-based Mactaggart & Mickel, whose headquarters are in Atlantic Quay, is a fourth-generation family business, which was established in 1925, and prides itself on the final quality of its homes and places great emphasis on customer satisfaction.
Click here  for more information about Mactaggart & Mickel's Greenan Views development.