Mactaggart & Mickel group announce rise in profit for sixth consecutive year
Mactaggart and Mickel Group announce £82.3m turnover, up 11%
Pre-tax profit at £14.2m, up 11%
English headquarters opened in Cheltenham and new English sites purchased
First housebuilder in Scotland to receive Investors in People Platinum accreditation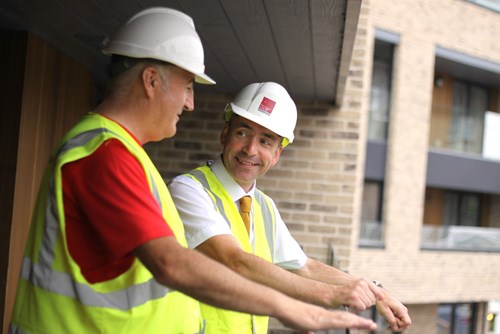 One of Scotland's leading family businesses, fourth-generation-owned Mactaggart & Mickel Group have today (31 October) announced their financial results for the year to 30 April 2018.
The company, founded in 1925, reported a rise in profits for the sixth consecutive year with profit before tax up 11% to £14.2m (2017: £12.7 million) and turnover increasing by 11% to £82.3m (2017: £74.3m).
The Mactaggart & Mickel Homes Scotland division posted a solid performance with turnover rising to £63.2m (2017: £62m) and gross profits of £12.9m (2017: £15.1m). The division sold 196 homes this financial year (2017: 167 homes) and margins increased to 25.1% (2017: 24.7%). Three new developments were launched in Scotland: Buchanan Views in Killearn, Lethington Gardens in Haddington and Carrongrove in Denny. 
The impressive set of financial results received a further boost from the English Strategic Land division, where continued investment in promoting land through the planning process and successfully securing residential consents, has resulted in the division recording its highest performing year, contributing £8.1m to revenue (2017: £4.7m) and £6.9m to gross profit (2017: £3.1m).
The strategy of expanding into the UK housebuilding market is now firmly cemented with the opening of the company's new English headquarters in Cheltenham and the acquisition of additional sites for future development in Oxfordshire.
Commenting on the results, Chief Executive Ed Monaghan said:
"It's been a very successful year and we are in an extremely robust financial position. Group profits before tax are £14.2m – one of the highest profit levels ever achieved in the company's 93 years – and up 11% year-on-year. Turnover was also up 11% to £82.3m.
"Our expansion into the English housebuilding market is a natural progression for the Group and the most visible sign of our successful diversification strategy.  We reached an important milestone this year with the opening of our first office outside Scotland – in Cheltenham – and the start of on-site works on our development at Milton-under-Wychwood in South Oxfordshire.
"Supported by the continued strong performance by Homes Scotland, we are delighted to receive a 5-star rating for customer satisfaction from the Home Builders Federation for the sixth year in a row, reinforcing our reputation for quality housebuilding and unmatched customer service.
"Importantly, we are continuing to invest in our employees and recently received the prestigious Investors in People Platinum accreditation and Investor in Young People Good Practice Award Silver.  Thanks to our successful expansion plans, we intend to recruit a number of new employees over the coming months, throughout Scotland and England.
"The Group's outlook for 2019 remains bright, despite the uncertainty surrounding the UK's departure from the EU, as we progress several exciting new opportunities, broaden our geographical reach and continue to build on the foundations for our future success."
Operational highlights include:
Homes Scotland

 

– turnover increased to £63.2m

 

(2017: £62m)

 

and gross profit decreased to £12.9m

 

(2017: £15.1m)with 196 units sold

 

(2017: 167 units). Three brand new developments were launched this year – Buchanan Views in Killearn, Lethington Gardens in Haddington and Carrongrove in Denny. 
Homes England

 

– the new headquarters in Cheltenham is home to the Homes England and strategic land business team.  This demonstrates the Group's statement of intent and its diversification strategy in action.  The Homes England business has now acquired four sites, representing 221 units with more in the pipeline.  The first showhome at St Jude's Meadow in Milton-under-Wychwood will open in Spring 2019.
Strategic Land

 

– this division surpassed last year's achievements with a set of stunning results.  Turnover increased to £8.1m

 

(2017: £4.7m) and profit increased to £6.9m

 

(2017: £3.1m).  The business secured an additional 157 acres of land, submitted 550 units for planning permission and gained consent for 485.
Timber Systems

 

– turnover increased to £7.3m

 

(2017: £6.3m)

 

with

 

gross

 

profits relatively steady year on year.

 

All Mactaggart & Mickel homes completed last year started their life in their timber frame factory; a 37,000 sq. ft manufacturing facility in Bellshill. The forward sales pipeline for the year ahead remains strong and margins remain competitive.
Contracts

 

– this year this division started developments for West of Scotland Housing Association in Symington, South Ayrshire; for Places for People at Millerhill, Shawfair, Midlothian; and in Stirlingshire for Rural Stirling Housing Association at Killearn.  Government policy in Scotland, coupled with the strength of the social housing market, presents a real growth opportunity for this business unit.
Commercial Property

 

– this division is working on a proposed development at St. John's Road, Corstorphine, Edinburgh to replace a tired 1960s parade of shops with a contemporary, mixed-use development. A detailed planning application has been submitted for 14,000 sq. ft. of retail space and 36 residential units which, once approved, would see a return of over 25% of the initial investment. The business has also progressed new Lidl and Co-op supermarket developments in Rosyth, Fife

 

and

 

Symington, South Ayrshire.
Private Rented Sector (PRS)

 

– the PRS division has grown their portfolio in Scotland and England to £65m, with continued investment in the London and Edinburgh lettings market. As attitudes towards home ownership begin to change, the diversified portfolio in both capital cities are contributing and insulating the Group against this trend and strengthening their balance sheet for the future.
Investment –

 

the fund, now in its second full year, has invested £3.6m across 31 different businesses. This year the fund has delivered its first modest valuation uplift of £202k to Group through an independent valuation of one of its investments, and an early investment in the energy sector is nearing a sale.  The fund is a medium to

 

long termvehicle so these early returns are welcome and reinforce our original vision.