Site manager scoops Seal of Excellence for family housebuilder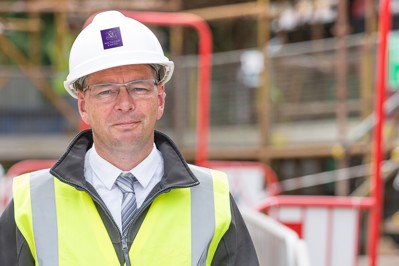 Luxury housebuilders Mactaggart & Mickel are celebrating after winning a prestigious award.
Senior site manager Paul Starritt and his team at St Jude's Meadow in Oxfordshire have been awarded the NHBC Seal of Excellence. The accolade is presented to the top site managers and Paul is one of only 10 to have been awarded the honour at the 'Pride in the Job' ceremony in Milton Keynes.
St Jude's Meadow in the idyllic Cotswold village of Milton-under-Wychwood is Mactaggart & Mickel's first development in England. New residents are due to begin moving into the first of the 62 planned homes very shortly.
There are more than 16,000 site managers across the country and Paul had already been named among the 450 winners of the NHBC 'Pride in the Job' Quality Awards along with three other Mactaggart & Mickel site managers, including Paul's brother Site Manager Jason Starritt, who was recognised for his work on Mactaggart & Mickel's Buchanan Views development in Killearn.
Paul Starritt said:
"I am delighted to have received this award which acknowledges the hard work that the team put in to achieve the very highest standards at St Jude's Meadow. At Mactaggart & Mickel there is a real focus on quality at every stage - something this award illustrates."
Joanne Casey, Managing Director at Mactaggart & Mickel's England Division, said:
"We are very proud of Paul. This award recognises his dedication to high standards at St Jude's Meadow – the same standards we uphold across all our sites, the standards that allow our customers to have the greatest confidence in the quality of their finished homes."
The fourth-generation family business prides itself on the final quality of its homes and places great emphasis on customer satisfaction. The dedication to perfection has been formalised as the Seal of Approval, a final step in the housebuilding process to ensure that new homes meet the company's stringent construction standards. The practice of undertaking inspections dates back to 1925, when Mactaggart & Mickel were first established.
Mactaggart & Mickel also recently received the maximum five-star rating from the Home Builders Federation (HBF) for the seventh year in a row, following an independent customer satisfaction survey. In 2017-18, Mactaggart & Mickel's overall customer satisfaction level reached over 97%.
For more information on St Jude's Meadow and Mactaggart & Mickel's other forthcoming Oxfordshire developments, please visit www.macmic.co.uk/new-homes-in-oxfordshire.