Mactaggart & Mickel offer temporary home to Police Scotland dog training unit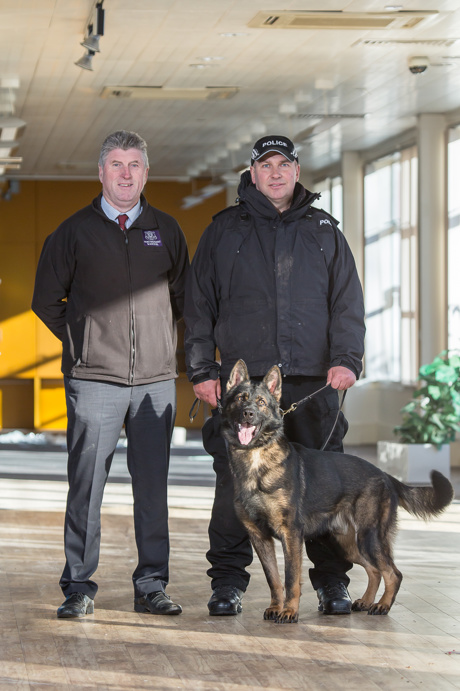 A former office building in Anniesland, which is owned by award-winning housebuilders Mactaggart & Mickel, will soon become a new training facility for Police Scotland's dog training unit. The family-owned company has donated the use of the unused office space after a chance encounter allowed the police officer responsible for the unit to see the building in person.
Following a suspected break-in at the building on Herschell Street, PC Alex Bell visited the building to check on the situation, which later turned out to be a false alarm. Whilst at the venue, the officer realised that it could be an ideal location for future Police Scotland dog training.
After attending and inspecting the building, PC Alex Bell followed up with a site tour and noticed it was perfect for the needs of the unit, with several stairwells, hidden spaces and partitioned areas on offer to train the young dogs to search and locate. Another positive was that the property has a perimeter fence so there would be no danger of the dogs running off into streets or traffic.
Due for redevelopment in 2021, the donation of the space to the Police Scotland dog training unit is another way in which Mactaggart & Mickel demonstrate their commitment to working with local communities before and during construction work on all their sites.
Alex said: "It is usually our dogs who use their noses to sniff out potential situations, so we are delighted to have found this new space for our crucial dog training. The building couldn't be more perfect for what we need, and it will allow us to properly train our police dogs for real life scenarios.
"We are grateful to all businesses who support us by providing training spaces and the use of the building on Herschell Street is no exception. It means a lot to us and will allow us to use resources in other ways which can only improve our training and ensure that we have the very best police dogs out on the streets of Scotland keeping the public safe."
Joanne Casey, director at Mactaggart & Mickel, said: "It's great news that Police Scotland can utilise the empty office building on Herschell Street to assist the complex training that the dog unit carries out. We have a long and proud history of supporting good causes in and around our developments and even though this is slightly unique compared to our usual community support, we are delighted to help and it's a great use of the space ahead of our planned development in 2021."