Mactaggart & Mickel to support Care Experienced young people
Family housebuilder Mactaggart & Mickel have signed an innovative, two-year partnership with the UK Charity of the Year to provide vital life skills and practical support to young people when they move into their own homes for the first time. The initiative has been launched to mark Care Day on 15 February 2019.
The housebuilder has pledged to work alongside Who Cares? Scotland to support the Care Experienced community in Scotland. The charity is the current UK Charity of the Year, in recognition of its campaigning work which secured the Independent Care Review, an ongoing government-commissioned review of the care system.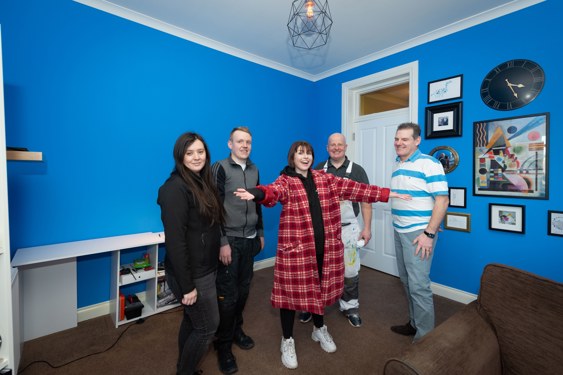 Lisa Moore (centre) with L-R Claire Beattie, Bryan Brown, John Thomson, George Dow from Mactaggart & Mickel
Teams of Mactaggart & Mickel employees have volunteered to carry out essential repairs and refurbishment when young people move into their own homes for the first time. Mactaggart & Mickel painters, plumbers, bricklayers, roughcasters and other construction trade - together with Head Office staff - are being released from their 'day job' to carry out repairs and maintenance for Care Experienced people, many of whom lack a family support network to help them settle in.
Marion Forbes, HR Director of Mactaggart & Mickel, said "The idea was suggested by one of our Employer of Choice champions, who realised that we could harness skills that our staff already have to benefit those who may need a helping hand."
"Most of us have a network of family and friends to guide us when we move into our first property, but Care Experienced people often don't, so they may require additional support to tackle jobs around the home such as painting and decorating, turning off the water, or plumbing in a washing machine."
The housebuilder arranged a series of roadshows by Who Cares? Scotland for their employees. "We've had a tremendous response with dozens of people putting themselves forward to help in some way," said Marion Forbes. "They are a credit to Mactaggart & Mickel."
Duncan Dunlop, CEO of Who Cares? Scotland, said: "We are delighted to be working with Mactaggart & Mickel – not just because they represent our first strategic corporate partnership to support us in our work, but because they understand what we are trying to achieve and they are right behind us. They understand that young people who have been in care often have little or no family support networks to turn to when they leave their care setting, and this can make it difficult for them to settle into their own homes.
"The support that Mactaggart & Mickel can offer will help us to ensure that Care Experienced young people have the same opportunities as anyone else – with the ability to turn to a trusted supporter to help them with simple things like DIY and painting and decorating. Mactaggart & Mickel's support is therefore both practical and confidence-building. Our aim is that our members know they have people around them to turn to for advice and support, just as any other young person would."
The first property to get a makeover is a property in Glasgow, rented by Lisa Moore. Lisa said: "I want to say a big thank you to everyone from Mactaggart & Mickel who gave up their time to help renovate my flat. I love the final result and could never have done this without their help. I was amazed how quickly it's gone from being a flat to being my home. This support will help our members massively – it certainly has for me."
Over the coming months, Mactaggart & Mickel will provide further support for the Care Experienced community by offering work experience opportunities, arranging taster days on construction sites, and hosting a life skills day at their Head Office. Many employees have also pledged to take part in the annual Kiltwalk in Glasgow which is taking place on 28 April 2019.